Dr. Maria Montessori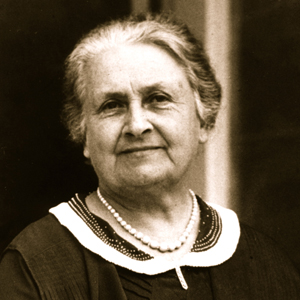 "Children are human beings to whom respect is due, superior to us by reason of their innocence and of the greater possibilities of their future." - Maria Montessori

"Education is a natural process carried out by the child and is not acquired by listening to words but by experiences in the environment." - Maria Montessori


Dr. Maria Montessori was born in Chiraville, Italy on 31st August 1870. In 1896 Madame Montessori became the first woman to graduate from the University of Rome Medical Schools and then she joined the staff of the University Psychiatric Clinic. She was also the first Lady Doctor to Graduate in those times. Being required to oversee children who were mentally retarded she became convinced that these children could learn if given the proper tools. She studied the work of Jean Itard and Eduardo Sequin-Pioneers in material based studies for the retarded children and started to design such tools for them.
As director of the State Orthopedic Schools in 1889, she prepared teaching materials, made notes and observed them for two years. She was so surprised at how much these children could learn that she decided to devote her energies to education. She returned to University of Rome to study philosophy, psychology and anthropology.
In 1907 a group of construction Engineers requested Madame Montessori to help manage the children of the labors so that the parents could go to work in peace and this resulted in "Casa- De- Bambini" i.e. "House Of Children". She offered these children specially designed materials and was delighted with their response to the sensorial materials, the child-sized furniture and eagerness to learn. In response to the requests she taught reading and writing. She made sandpaper letters for them to trace and when they discovered the relationship of letters, sounds, writing and words to reading; they become even more excited about learning.
She felt by working independently children could reach new levels of autonomy and become self motivated to understand things much better. she also believed acknowledging children as individuals and treating them as such would yield better learning and fulfilled potential in each child. she then continued her research and made changes according to her observations